Tahir Johnson is the founder and CEO of Simply Pure Trenton, the first black-owned social equity dispensary to receive a license in New Jersey. He's a well-known cannabis advocate who's held leadership roles at the Marijuana Policy Project, the National Cannabis Industry Association (NCIA) and the United States Cannabis Council. Tahir was born and raised in Trenton, New Jersey, so coming full circle and starting a dispensary in his hometown is something truly special.
From growing up in New Jersey to graduating from Howard University, working in finance and wealth management at companies like Morgan Stanley, to finally launching a business back in his hometown, he embodies the Trenton success story.
Tahir is speaking at the upcoming Cannabis Quality Conference in Parsippany, New Jersey on October 18. Ahead of his presentation there, we caught up with Tahir to learn a little more about his background, his thoughts on social equity and some advice he could offer to other minority cannabis entrepreneurs.
Cannabis Industry Journal: Tell us a little about yourself – what's your story?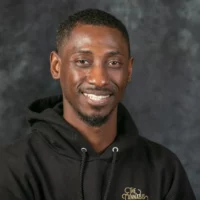 Tahir Johnson: My name's Tahir Johnson and I am the founder and CEO of simply pure Trenton. I was born and raised here in Trenton. I am a Howard University alumnus. I've spent most of the past few years of my life in the DC Maryland area. I came home to apply for the licenses and thankfully won them. I am one of the first 11 dispensary licenses to be issued last year. I licensed the brand from my good friend, Wanda James, who is the founder of the original Simply Pure back in Denver, Colorado. She started the very first black-owned dispensary in the country. I am excited to be carrying this legacy.
Before cannabis, I spent most of my career working in finance. I came into the industry in 2019 and started out as a budtender after quitting my job in finance, starting to work at a dispensary. I began working in advocacy, joining the NCIA in 2019 then went on to the Marijuana Policy Project and the US Cannabis council in 2021, where I was up until I started this dispensary. It's been amazing being back home and close to the family after being away for 22 years. I am just really excited that I am on track to open the first black-owned social equity dispensary in the state of New Jersey.
CIJ: Tell us about Simply Pure. How did you start this dispensary and how did you meet Wanda?  
Tahir: So, I met Wanda back in 2019, back when I was with NCIA. Initially, it was never about opening a dispensary or anything back then. I was just building a network and finding like-minded minority folks in the business for possible future collaboration. You know, Wanda, I think of her as an OG. She's been a friend and mentor from Day 1. So, when I initially wanted to apply for a license in New Jersey, I knew that Wanda wanted to grow and take her business outside of Denver. I went to her and asked possibly about partnering, seeing if she wanted to do this with me. She thankfully agreed to it and the rest is history.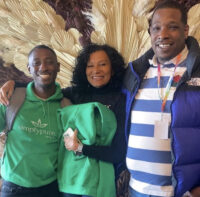 CIJ: Could you give us a timeline of how Simply Pure Trenton got started? Where are y'all at right now and what sort of roadblocks have you had to overcome?
Tahir: Sure, So I got the conditional license in May of last year, then I got the annual license in April of this year. Early on, hurdles were definitely access to capital. Thankfully, me being one of the first licensees and I think my background and network helped me get access to the money. The biggest barrier, when you look at getting a license, there are so many moving parts. Getting the license is just one small piece of it. Then getting local approval is another obstacle. But man, getting the building permits has been one of the biggest roadblocks I've ever faced. If somebody asks me what my biggest roadblock was, it's building permits. Because in New Jersey, you have to get approval from multiple different outside agencies that really have nothing to do with building or cannabis ore anything. The latest approval we're waiting on is from the Raritan and Delaware Canal Commission and I'm wondering what the hell does that have to do with building out the interior of my space? You know what I mean, it's just a lot of red tape and diplomacy that I have to go through. A lot of it is very unexpected!
CIJ: Alright switching gears a little bit here. How would you define social equity in the cannabis industry's current climate and where we're at today? What does economic empowerment mean to you?
Tahir: I would say first that social equity in cannabis specifically is the idea that people who have been the most impacted by the war on drugs should have the opportunity be a part of the industry. And that's super important because we're building a completely new industry and one that's doing billions of dollars in sales. In my opinion, when we say people who have been most impacted by the war on drugs, those are by and large the black, indigenous and Latino populations. So, it's been black and brown folks that have been largely affected by the war on drugs. If we're going to have a new legal system, those same people who were 4x more likely to be arrested for cannabis should at least get the opportunity in ownership of this new industry.
Economic empowerment is one of the biggest parts of social equity. It's actually what drew me to cannabis in the first place. When you look at the opportunities in cannabis, it's a business that's hard to get into, but It's a lot harder to do if you have a lack of access to capital. Drawing from my career in finance, when you look at black communities, we have 1/10 of the wealth of our white counterparts. Looking at such a cash-oriented business where you can't just get a normal business loan from a bank, you have to have personal wealth and access to venture capital or private equity. Well, our communities have less access to that because of our background, our networks and upbringings. So social equity is the idea that there should be some support systems in place, some help in bringing opportunities of the cannabis industry to us.
One part of that is licensing and giving us access to the licensing process. Another part of this issue that is being administered more recently is actually making sure that wealth is distributed through programs and policies. Not everyone may want to start a dispensary like me, but they were still severely impacted by the war on drugs. Seeing money from the tax dollars generated by the cannabis industry now going back to the communities to fund rebuilding and revitalizing projects is great. It really comes down to leveling the playing field to create those opportunities for people that should have them.Tahir Johnson will be presenting at the upcoming Cannabis Quality Conference in Parsippany, New Jersey, October 16-18. Click here to learn more.
CIJ: What does community mean to you? How does your business fit into and support the Trenton and larger NJ cannabis community?
Tahir: For me, one of the biggest things I'm proud of growing up in Trenton is that sign on the bridge, "Trenton Makes, The World Takes." Growing up, this area was an industrial town. Both of my grandparents had good factory jobs and were able to support a family, but a lot of that has left the city over the years, leaving it economically depressed. I've been pulled over, arrested, we've had family members locked up all just because of cannabis. So the idea that now, through cannabis, to be able to have an opportunity to build something positive in our community, to create jobs and wealth in our community, giving back in this same place is wonderful. I think of this as the economy and opportunity of the future. In New Jersey specifically, the state has one of the biggest racial disparities on arrests. A lot of that is due to cannabis. I remember growing up, every time we get pulled over, you know we're getting searched. There's been real life situations, where there was a seed or a roach in the car and we'd have to decide who's going to jail today just because of a roach. You know, how many people's lives have been impacted and changed just because of a cannabis arrest? Now, looking at New Jersey and this ability to right those wrongs, it's really a beautiful opportunity.
When I talk about my community, the way that I've been able to inspire people and make our community proud has been the biggest thing for me. For us, we haven't seen a lot of people make it and get to achieve success. So, to be able to have this opportunity and to be from here actually doing this is one of my biggest motivators, showing people from my community and from across the state that we can be successful in business. We often hear how difficult it can be and how making it in business seems like mission impossible to so many, being able to achieve that mission and give some hope and inspiration to people where I come from is truly special.
CIJ: If you could give yourself advice ten years ago, what would it be? What advice would you offer to other BIPOC entrepreneurs trying to make it in the cannabis industry?
Tahir: Let's see where I was ten years ago. I would say just always continue to keep the hope and keep the faith. Stuff gets tough, but as long as you keep the vision and the path, it's going to be okay. What I would say to other cannabis entrepreneurs is largely the same thing. This is hard as fuck. It is very hard. No matter how many times you get knocked down, you have to get back up. Don't believe the hype. Don't let anybody make you believe that you can't do it because you can. It takes believing in yourself, even if people don't believe.
This would be something that if you are a minority entrepreneur, this is really true. You really do have to be better and stronger. Educate yourself. Take the time to network with people that look like you and don't. First you want to build a team and a support system. You also want to be able to build. Some of your allies that can help support you, they might not come from your same community or background. I wouldn't be here if it wasn't for a lot of very diverse people that believed in me. Work hard, network, believe in yourself because nobody else is going to believe in you. Put in the work and that'll bring success to anything you want to do.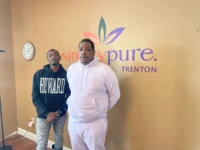 CIJ: Any final thoughts you want to share with our readers?
Tahir: Yea, so in addition to me winning my licenses, my close childhood friend, John Dockery, will be opening another Simply Pure location in downtown Trenton too, which is really exciting. I am really looking forward to getting to the finish line with all of this and being able to open. I think one of the biggest things I'd like to add is that there are so many people depending on us for this, so many jobs on the line, the community I am waiting to serve, all of these things and we're encountering delays that are typical of this industry with the long road from getting licensed to opening and operating. A lot of people are expecting us to be open and we've encountered some slight delays, but we're excited to be opening soon and expect that to happen no later than October.